Pro Tips: 23 Industry Execs Share Their Secrets to Success
And mistakes they made along the way
Illustration: Dianna McDougall; Source: Getty Images
Every career is filled with opportunities and pitfalls. It's how one deals with adversity andsuccess along the way that can mean the difference between moving up the ladder, making an impact or crashing and burning. Adweek reached out to leading industry executives who shared how they did it, navigating various points in their careers from mistakes to pivotal moments to the best advice they received on the path to success.
Adweek: What's the best advice you got? 
Ricardo Marques
VP of Marketing, Budweiser
I have to go back to a meeting we had with our CEO [Carlos Brito] a few years ago. What he said was, "Dreaming big or small takes the same amount of effort, so why not dream big?" This was very simple but very cool because it allows us to not only think about your personal career but how you approach any given project, be it a Super Bowl brief or an innovation. That type of thinking when you have a large group of people at the table gets people focused on the right stuff, which is possibilities. All of a sudden people start asking what if we did it and how do we approach this differently. It is truly energizing and super simple as well, which I like, and applicable to anything from your personal life to business challenges. 
Twitter
Lara Cohen
Global Head of Partner Solutions, Twitter
Our former CEO here Dick Costolo [told us to] assume your colleagues have the best intentions. It really resonated with me because I came from a traditional media background. I worked in New York media for a really long time before coming to Twitter. It was almost currency at magazines to be super cynical and almost cool to hate on everything. When I came to tech, I quickly learned it was a much different mindset here. There's always something to learn and being the smartest person in the room is not necessarily always the best way to be. You should be striving to continue to learn every day on the job, and the best people to learn from are your colleagues. When you see the best in them and they see the best in you it creates an almost healthier, more open work environment.
Keith Cartwright
Executive Creative Director, 72andSunny
My greatest advice came from my father, who told me that being a great leader requires great humility. He's a pastor, so humility was the dish he was serving. Humility at its core is about compassion for the people, for the work and for clients. Anytime you have a win, you find humility in who got you there, and when you lose you find humility by learning through your mistakes. Both, as he described, are gifts.
Getty Images
Tamara Mellon
Co-founder, Jimmy Choo; Founder, Tamara Mellon
Never stop working, even if it's not exactly what you want to be doing. It's always better to do something than nothing. You never know who you're going to meet at one job, and what opportunities that can lead to or what ideas it may spark.
Robert Ascroft
Bridget Russo
CMO, Modern Meadow (former CMO, Shinola)
I'd say two things. One would be: Whatever you think you're worth, ask for more. I think, as women especially—and speaking for myself—I sometimes question: Can I ask for that? I don't know. Generally speaking, men feel more confident when it comes to asking, even when they don't have the chops. The other is: Don't kick the darkness. That was when I was working with Bono [at his fair-trade fashion brand Edun]. Often, when you're working in the social-impact or environmental space, it's easy to position yourself as better-than. And he was especially keen, and rightly so, to say there's no reason to present a new idea by putting down another idea. And I strongly believe that.
Chloe Aftel
Margaret Johnson
Chief Creative Officer, Goodby Silverstein & Partners
Stay as scrappy as you were the day you started. I met with a recruiter who worked for WPP named Trish Shortell in 2006. She told me, "You need a brand. There are lots of guys out there who are much less talented but much more famous than you are." And this piece of advice came from Jeff Goodby: "Draw your inspiration from everywhere but advertising—go to museums, watch documentary films, read comic books. Pull from lots of different places."
Hulu
Kelly Campbell
CMO, Hulu
"Take a seat at the table." It was given to me firsthand by Sheryl Sandberg early in my career at Google. I was sharing a quarterly business review. I had prepared the slides and was planning to present the deck. However, when I walked into the room, most of the seats were taken by people more senior than me, so I hesitated. She waved me over and told me to take a seat. Later, in a one-on-one with her, she told me I earned a seat at the table, and I needed to take it without hesitation. This advice stuck with me. When I take a seat at a meeting, not only do I take it because I earned it, but also because I can add or gain value by being there, and thus will give 100 percent of my attention to the topic at hand. So now, when I take a seat at the table, I take it with purpose and without hesitation.
What was your biggest mistake? 
Raja Rajamannar
Chief Marketing and Communications Officer, Mastercard
I joined a company, and early on, I wanted to showcase my brilliance and prove to the company that I can overdeliver results. But what I discovered is that that wasn't getting me the kind of acceptance and kudos that I thought I would get. It's much more about your relationships and the network that you build in the company. Once you have those two, people are more receptive to what you do otherwise.
Katrina Craigwell
Executive Director, Head of Marketing, Finn by Chase
The biggest mistake I've made has been not giving relationship-building enough time and attention. As an introvert, it's easy for me to retreat into my own space, especially after a busy stretch. I've made the mistake of retreating too much and hurting my relationships as a result. I practice doing the opposite every day, and I'm grateful for the incredible community of colleagues and friends who I get to work with that make this easy.
AMC Networks
Josh Sapan
President, CEO, AMC Networks
Worrying that zombies would have limited appeal with The Walking Dead. The truth is, great story and great characters can inhabit any genre or format.
Courteney Monroe
CEO, National Geographic Global Networks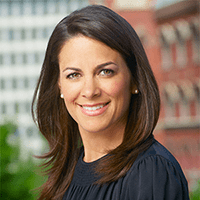 In my first few months at my first job after college, as an assistant account executive at BBDO, I was assigned to the GE account. We were prepping for my first-ever print shoot for GE Appliances, and one of my jobs—arguably the most important—was to arrange for the GE Monogram appliances to be shipped from Louisville, Ky., to the New York studio where we were shooting. The New York address I was given said Long Island City. Brand new to New York, I just assumed that meant Long Island, as I had never heard of Long Island City, which of course is in Queens. Too afraid to ask questions for fear people would think I was not capable, I had the appliances shipped to the wrong address. The shoot had to be pushed back a day because of that. Total disaster! What I learned from that experience, which I remember as if it were yesterday, was to never be afraid to ask questions or confirm your understanding of an assignment. No one will judge you for asking; they will only judge you if you screw it up!
Daniel Khabie
Global CEO, Mirum
I started the company at a young age, and my biggest mistake was not listening to macro and micro economic trends because it's so important to understand the world you live in. During the recession, I thought we could work through it. We would have been in a better position coming out, but instead we got killed. Now I'm very much a trend seeker looking to understand movements and listening to the street to see what's happening. You can never operate in a bubble when it's connected to the big ecosystem. … Whatever is happening around the world will have an impact on your bubble.
Brian Benedik
VP, Global Head of Advertising, Spotify
Early in my career, I was always chasing the next job before I really mastered the current role. I grew to learn that working hard in your current role and proving your value to the organization, the next step tends to take care of itself.
What is an important lesson you learned along the way? 
Hugh Dineen
CMO, MetLife USA
When I started in marketing, I was told if you're not uncomfortable, you're doing something wrong. That's a mantra I've tried to live throughout my marketing career. Whenever I found myself getting comfortable, I thought to challenge myself in a different way, or look at a business problem in a different way, or consider an assignment that would make me uncomfortable, versus those that are more in the mainstream.
Elizabeth Rutledge
CMO, American Express
I started out as a ninth-grade biology teacher, switched careers to begin my advertising journey at Nynex (now Verizon) and have been at American Express for over two decades. At American Express, I've managed local and global teams, negotiated some of our biggest partnership deals, run our consumer product group and launched our Offers platform. Great teams, inspiring leaders, hard work and active sponsors helped me get to where I am today. Though some of the biggest career mistakes I've made along the way came from not listening to my team. It's easy to chart the course forward based on your own insight or instinct, but I've learned (the hard way) that you must bring people along the journey with you. As for best advice, my dad always said: to show up prepared, be myself—but also, to walk "the last mile" in someone else's shoes. That's gotten me through difficult challenges in work and life.
Cara Robinson
(former) VP, Global Marketing, Clinique
I was a junior-level manager at Neutrogena during a major restructuring of the management team. It was also a time when the brand had undergone a lot of change and there were a number of financial issues. We needed to do something bold. I proposed we use the budget we had for a big TV ad. It was risky, there was no proven track record (the brand had relied on print) and once we used the money, it would be blown. I developed a piece of creative and tested it first. It turned the business around and helped ignite growth. I learned that a big part of being a leader in an organization is your ability to set a vision and to be able to articulate it and through the power of influence and sell that vision. At some point you shift from managing a business to managing people and getting them to align with your vision is something I carry to this day.
Hearts & Science
Scott Hagedorn
CEO, Hearts & Science
When I was younger, I had a harder time accepting advice. When we still had change orders in the agency and had to essentially handcraft a well-written note, someone critiqued how I filled them out, saying mine were less detailed than they should have been. I was 24 at the time and I was shocked by the feedback. It put me into a more active listening mode and made me realize that sometimes feedback is supposed to be constructive and help me along rather than inflame me. It was a pivotal moment for me … and I also realized I shouldn't be an account director; I should be in strategy.
Richard Brim
Chief Creative Officer, adam&eveDDB
There were moments when I took this really seriously to the detriment, possibly, of my social life and my kids. There was a moment where everything in my life started happening at the same time: family, success … and there was also a moment where I took it far too seriously, and at the end of the day you're at your best when you don't do that. There have been moments where in my gut I know it's not been right and it's never been right afterwards … so [it's about] knowing to listen to yourself, and if something doesn't sit right, you've got to voice that.
What is a piece of business advice that you would pass on to others? 
Karen Costello
Chief Creative Officer, The Martin Agency
I think risks happen when you create environments of respect. If someone feels like they're part of a team and feels respected as an individual, it's a lot easier and safer to share something that might feel risky. And what's really, really important is to establish great relationships with your clients, again with mutual respect. I find client relationships to be something you really have to nurture in your career. Even for young creatives, get inside client meetings, get on the phone with a client, establish those relationships because they help you grow, help the clients grow and they allow you to put better and braver work out into the world.
Cathy Butler
CEO, Barbarian
Surround yourself with good company. It sounds cliché, but it's true—it's lonely at the top. Everyone needs their own "advisory board," confidantes with whom to share, commiserate and celebrate, but also ones who will give the straight talk when you need it. What helped me as a CEO, and is advice I'd like to pass on, is to hire an executive coach. Your coach will guide you through the process of understanding, learning, prioritizing, building and sustaining a business. You will be expected to have all the answers and you won't. It's important to seek outside perspective for your own well-being.
What helped you get to where you are today? 
TBWA
Nancy Reyes
President, TBWA\Chiat\Day New York
Earlier in my career, I struggled with whether I belonged here. Being Hispanic and not seeing enough people like me in the business, it was a constant question of whether I'd earned my place in the industry. During the last five years of my life, I started to look back and think I've accomplished quite a lot; I've arrived. I sometimes get tired of chasing it all … but people along the journey became massive advocates for me. It was a combination of hard work and people who saw that and wanted to celebrate it. In today's world, those advocates have all been men, which is awesome. When I was in accounts, there was someone who acted as my PR machine, and I didn't even know I had one.
Burrell Communications
Lewis Williams
Executive Vice President, Chief Creative Officer, Burrell Communications
I'm African American, so that's always been an underlying theme in this industry. Careerwise, honestly, I have had some instances where it bubbled to the surface, but I had to ignore it. Being from the South, [I knew] that's just how life is. Growing up, I had no idea advertising even existed. But I was always able to draw, took art classes and went to college as an art major. I was aware of fine art, the masters, et cetera, but had no idea that inside me was this art director. But I took classes in graphic design and found that I had a knack for it. It opened my mind, and my professor said, Lewis, you might be good at commercial art. I went out to San Diego to get a job, looking for work with anyone who would hire me, and I happened to get a job in the production department at an agency. That's how my career started.
Tony Xu
CEO, Co-founder, DoorDash
I was a very curious person from a young age, which eventually led to entrepreneurship. I started my first business when I was 8 and had a number of odd jobs growing up, including working in my mom's restaurant. My background has taken me from cancer research to business to new technology. I often search for challenging problems and try to find tangible solutions. Growing a company as fast as DoorDash has grown makes me feel lucky, as it's like always climbing uphill. Bring on the challenge. I'm wrong about a lot of things all the time, both big and small. I don't fret about being wrong because you can fix things quickly if you're humble and willing to change your point of view. Being wrong is also the easiest way to get to the right answer.
As told to Patrick Coffee, Robert Klara, Jason Lynch, Kristina Monllos, Erik Oster, Diana Pearl, Stacy Perman, Katie Richards and Lindsay Rittenhouse.