Natural Light Built a Dorm Room for One Student to Escape Their Parents' House
The tiny house is decked out with branded swag, a TV, gaming system, A/C and a mini fridge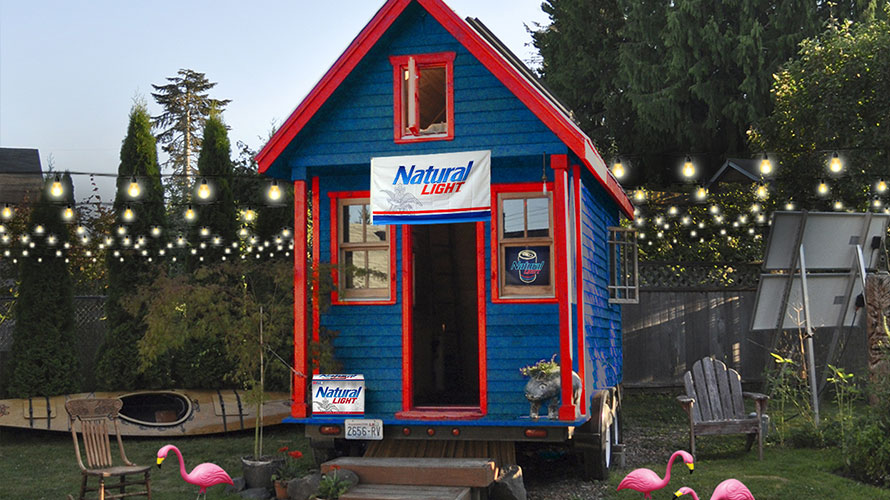 For college students, remote work is disrupting a defining moment in their burgeoning adult lives. Rather than heading back to campus this fall, many are likely settling in for at least one more semester at home—not exactly the typical college experience, especially for those that were hoping to round out their collegiate tenure on a high note.
To soften the blow for at least one of those sad, lonely college kids, Natural Light is offering a mobile dorm room that a lucky winner can plop down in the driveway or backyard of their parents' house. That way, at least they've got an escape that feels something like the freedom and chaos of a college dorm.
The closure of college campuses is "a crushing feeling for 21+ students," according to Daniel Blake, vp of U.S. value brands at Anheuser-Busch.
"We created Dorm From Home to give back some of the independence found with on-campus living," he said. "We hope that this initiative will inspire our community to celebrate the college lifestyle no matter where they are living."
It's not the first stunt that Natural Light has pulled this year to try to speak to the way the pandemic is uniquely affecting its audience of college kids who are of legal drinking age. This spring, the brand hosted a virtual commencement ceremony for graduating seniors, and earlier this summer, it hired a fully remote intern to help develop its next flavor.
The dorm house itself is around eight feet by 12 feet. It'll have Wi-Fi, a gaming system, TV, air conditioning, a mini fridge and "lax volume policies," the brand said—all the college life staples. Naturally, Natural Light is also gifting the winner with enough beer money to last a semester.
To enter the contest, students of a legal drinking age have to post a photo on social that makes the case for why they need a dorm delivered to their doorstep, including the hashtags #DormFromHome and #contest. Natural Light will choose the winner who makes the most convincing and creative argument, while reflecting the brand's personality and values.
So far, a quick search for the hashtags on Twitter and Instagram shows a wide variety of entrants, including a nurse trying to finish grad school while protecting her families from Covid-19, a crafter who wants the extra space for her creations, a student who claims he'll live in a Missouri cave and one guy who inexplicably covered his dorm room floor with cups filled with beer.
Natural Light is accepting contest submissions through Aug. 18.