Lego makes some of the most delightful advertising around, and this series of print ads from Ogilvy Bangkok are just about perfect, from concept to execution.
The work, which won three silver Lions (in Print & Publishing and Outdoor) and a bronze (in Design) at the Cannes festival last month, shows kids literally envisioning their future careers by building them from the inside with Legos.
The tagline: "Build the future."
See the ads below, and our chat with Ogilvy Bangkok below that.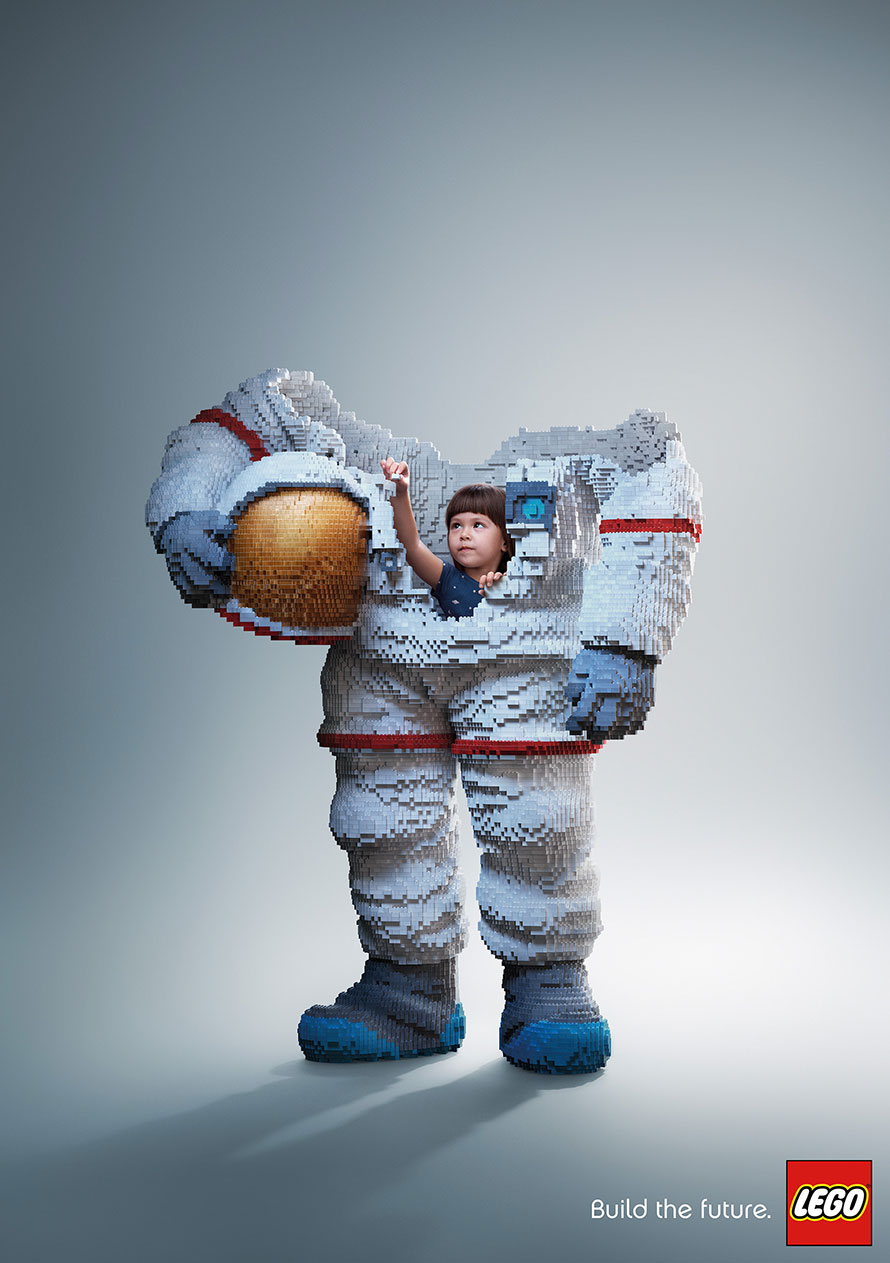 "Lego's ultimate purpose is to inspire and develop children to think creatively, reason systematically and release their potential to shape their own future. The brand believes that play is a key element in children's growth and development. High-quality play enriches a child's life and lays a strong foundation for adult life," Ogilvy Thailand vice chairman Nopadol Srikieatikajohn tells AdFreak.
"To communicate the brand belief, we created this ad series to visualize the idea to consumers. We utilize the visual of a kid building with Lego bricks in the shape of his or her dream career. The Lego bricks that are being built symbolize the kids' development, which gradually grows bigger and closer to their dream future."
The agency called on Illusion in Bangkok to create the pieces using 3-D illustration. "Each was designed to be in the lighting closest to each career working atmosphere—the astronaut girl in space lighting, the rockstar boy in concert lighting, and the firefighter boy in fire-like lighting," Srikieatikajohn says.
The three careers were chosen from Lego career sets that the agency believed would attract children the most. They turned out to be dream careers in different fields—science (astronaut), the arts (rock star) and social services (firefighter).
Ogilvy says it is planning to build the characters from the ads as actual Lego structures as an extension of the campaign.
CREDITS
Client: Lego
Agency: Ogilvy Bangkok
Vice Chairman: Nopadol Srikieatikajohn Group Executive Creative Director: Wisit Lumsiricharoenchoke Creative Director: Gumpon Laksanajinda
Associate Creative Director: Denchai Kheereerak Senior Art Director: Asawin Tejasakulsin Copywriter: Supalerk Silarangsri Copywriter: Kris Garford Spindler Agency Producer: Paiboon Suwansangroj Chief Creative Officer – Asia Pacific: Eugene Cheong Agency Producer: Kannika Mongkolrattanachart Communications Director: Varunorn Suphannanont Senior Communications Executive: Wasin Siriamornsook
Illustrator: Illusion, Bangkok