Whether it's from a desire to escape the anxieties of modern life or simply an artistic form of nostalgia, the visual techniques of the recent past are now helping define the look of the present.
In Shutterstock's annual Creative Trends report, the stock art service analyzes billions of searches for images, videos and music to unearth emerging themes that marketers might expect to see flourish in the year ahead. While the report covers a wide array of approaches—you can check out the entire Creative Trends report here—three of the most notable also shared a common trait: retro roots.
We asked Robyn Lange, Shutterstock curator, to explain the rising appeal of these three trends, which the service is calling Zine Culture, '80s Opulence and Yesterday's Tomorrow.
Zine Culture
From the 1960s to the 1990s, self-published magazines known as zines served as potent and rough-hewn soapboxes for a wide range of enthusiasts, dissidents and underground journalists. The low-tech, cut-and-paste style of zines was defined by necessity but became a point of pride as, by contrast, the magazine industry focused on lush and refined production quality.

Credit: Olesya Tseytlin/Shutterstock
According to Shutterstock, searches for "contemporary art collage" content on its site increased 1,376 percent last year. Here's Lange's summary of why Zine Culture as a visual aesthetic is making a comeback:
My favorite trend this year is Zine Culture. I grew up in the era where this style exploded. A style defined by a uniquely undesigned, raw look and built on principles of collage, it is largely influenced by the invention of the photocopier.
It's about paper cutouts, noise and grain textures, and rough-edged layers that define this trend. The earliest zines date back to the 1930s. Initially, it was an expression of nerds with a deep interest in a particular topic who used zines to share that interest.
As technology improved and changed, it became more of a political movement and became an alternative voice for communities who were not well represented in mainstream media. The concept exploded in the '70s and '80s in the U.S. I was one of the people who would hang out at a Kinkos store (which were open 24/7) to use the photocopier, hang out with my friends and share our thoughts and ideas.
Credit: Popovartem.com/Shutterstock
We are now seeing a lot of communities turning to the art scene to do the same thing today. What's interesting about today's manifestation is watching it evolve and modernize in the digital age. Zine culture lives on in the decentralized mindset of social media where independent makers can share and niche groups can discover. It's now about leveraging different multimedia and pasting it all together.
Especially with platforms like Instagram stories where you can mix motion with text and static imagery. Using different mediums and mixing together is the new approach to this traditional trend. It is really exciting to watch this one and see where it will go from here.
'80s Opulence
One doesn't have to squint too hard to see similarities between the United States of 2019 under Donald Trump and that of the 1980s, when corporate tycoons (including Trump) were often the most prominent cultural icons. And, as in the '80s, the visual concept of excess can sometimes be taken literally and other times seen as an ironic commentary on economic inequality or our social priorities.
Credit: Iordani/Shutterstock
On Shutterstock's site, searches for "leopard print pattern" were up 168 percent in 2018, while searches for "elegance pattern" were up 1,060 percent. Lange explains how this opulence aesthetic can actually be traced back hundreds of years:
'80s Opulence is another really interesting trend this year. We are already seeing it on the runway and in stores like Zara. Gold chains, animal prints and other garish styles that compete for attention are what this trend is all about. It is harkening back to an era of busier patterns but a more simplistic time when people's main priority was having fun. What's interesting is the broad spectrum of nostalgia across a number of trends in this year's report, referencing trends that happened decades ago, with a fresh approach.
Evgeniya Porechenskaya/Shutterstock
It's not just '80s Opulence, going back 40 years, it's also going back 300 years to the Rococo era. Both were about decadence, excess, happiness and indulgence. I personally believe there are many people who are feeling the effects of the somewhat tumultuous times we are living in, where there is so much uncertainty and people are tired so they are longing for times past.
Yesterday's Tomorrow
A future that's not an anxiety-inducing nightmare of human misery? Wouldn't that be nice.
One trend Shutterstock noticed recently was the renewed popularity of color patterns, lighting and imagery that remind us of the types of science fiction that prospered before the gritty near-future vibe of content like Black Mirror. And sure, a lot of these iconic looks did come from dystopian futurescapes like Blade Runner, but the decades since have eroded some of the rough edges and left creatives somewhat longing for a good-old cyberpunk robot apocalypse—as long as the mood lighting was on point.

Gorodenkoff/Shutterstock
Searches for "synthwave" content on Shutterstock was up 717 percent last year. Here's how Lange explains the appeal of what her team is calling the Yesterday's Tomorrow theme:
Yesterday's Tomorrow—our third major trend, is how we used to think the future would look like. This is interesting because of its duotone, futuristic, neon color scheme that is a direct tie back to our very recent Color Trends Report which analyzed search and download behavior to identify Proton Purple, UFO Green, and Plastic Pink as the top trending colors for 2019.
Yesterday's Tomorrow reminds us of childhood friendly memories of old futuristic sci-fi movies and computer games, it's all about the looks and sounds that defined futurism at the dawn of the digital age like purple, blue, and pink duotone gradients, basic vector graphics and dreamy synth music.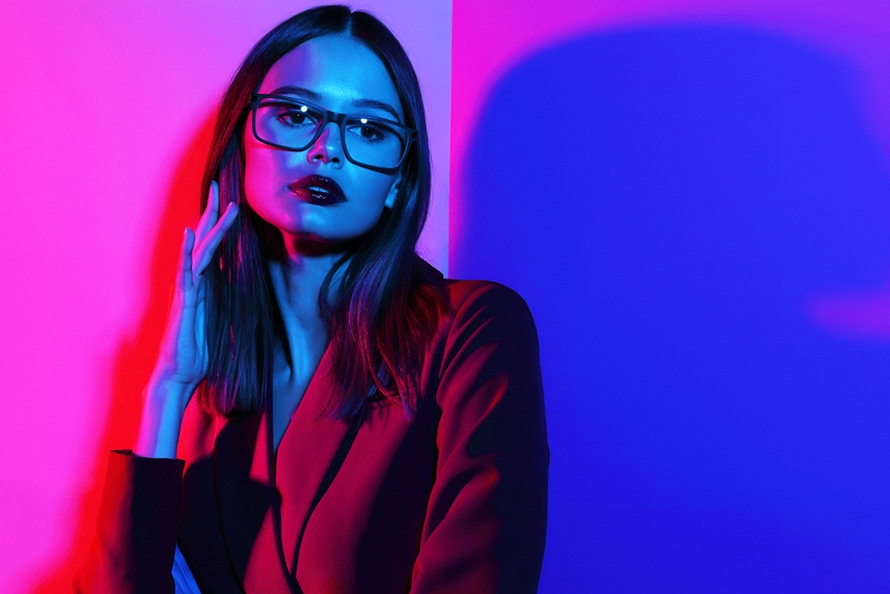 MaxFrost/Shutterstock
You can read more about Shutterstock's 2019 Creative Trends outlook on the company's blog.