6 New Marketing Technology Stats That Grabbed Our Attention
It's a cross-channel, AI-powered, IoT-driven world
For our monthlong Next Tech series that kicked off on Monday, we scoured the internet and mined various offline sources to find mar-tech statistics that people in the world of brands need to know. Here are six that we found most interesting: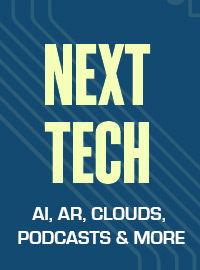 1. Cross-channel world
According to a Marketo study that will be fully released in August, marketers employ an average of six different channels to engage consumers. However, consumers interact with brands on just two channels, while potential business customers interact with brands on four. The San Mateo, Calif.-based mar-tech company surveyed more than 1,100 marketers in the U.S., U.K., Germany and France and 1,000-plus consumers in the U.S. and U.K.
2. IoT know-how is in demand
Need a new gig? There are currently more than 8,000 openings for Internet of Things marketing specialists listed on job sites, per Adweek contributor Matt Kapko. Check out his widely read piece from this week's magazine on the 10 jobs of the future that every marketer will want.
3. This level of interest is anything but artificial
For the business world, players are living in an artificial-intelligence genesis. According to a recent Salesforce study, brand marketers said that their AI use will grow more than 50 percent over the next two years.
4. And now the boss "gets" AI
The C-suite is starting to recognize the possibilities in cognitive computing. According to an IBM report, 73 percent of CEOs predict AI will play a "key role" in their companies' future. And more than 50 percent of the chiefs said they plan to adopt such technologies in the next two years.
5. The smart speaker battle rages on
From May of last year until May 2017, Adobe analyzed 14.3 billion visits to ecommerce sites as well as 14.5 million social media mentions of voice assistants and voice assistant devices.
The San Jose, Calif.-based company found that Google Home was outpacing Amazon Echo during the holidays.
But then Echo started to make up ground during the initial months of 2017.
6. Big bucks
The mar-tech space is hot with investors, too. For instance, SimilarWeb, a digital market intelligence company, on Wednesday announced that it has raised $47 million, bringing its funding total from recent years to $112 million. The San Francisco-based company's latest round of cash will be utilized for global expansion and to launch a consultancy division. It provides insight about website and mobile apps across industries for brands such as Unilever, HSBC, eBay and Adidas.
Bonus stat: an exercise in decline
According to Foursquare's location intelligence, the overall gym industry is showing light growth in foot traffic, with total visits up only 2 percent year over year across the country. Here's a chart with more information:
Don't miss the Adweek Livecast webinar on Aug. 22 with IBM chief digital officer Bob Lord on how marketers can succeed in an AI-driven market. Register now.