We reported yesterday about New York Times Phoenix bureau chief Fernanda Santos moving on to a faculty position with Arizona State University. Today, it's about the similar turn of an even longer-termed veteran reporter at the paper, in the shadow of a tumultuous round of NYT buyouts. (Drew is among those who accepted the offer.)
Christopher Drew, who joined the Times in 1995 after stints with several New Orleans papers and the Chicago Tribune, is filling a vacancy at Louisiana State University's Manship School of Communications. He replaces Jay Shelledy (pictured below, right) and starts this fall semester as the school's lead for a statehouse reporting program and cold-case project investigating unsolved crimes that occurred during the Civil Rights era.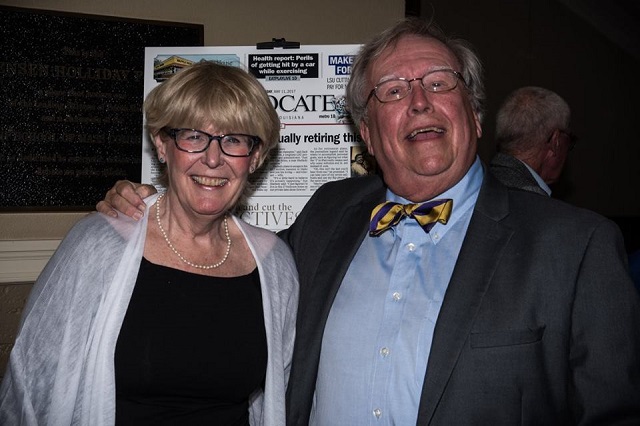 From a report in the Times-Picayune by Julia O'Donoghue:
Drew said Manship is one of very few journalism schools that offers a hands-on, reporting program for students in a statehouse. He hopes to broaden the program to include more in-depth reporting of state government outside of the legislative session.

Drew also hopes to expand Manship's "cold case" program beyond Civil Rights era disputes to more current issues concerning race and criminal justice. "I want to dig into some of those issues," Drew said.
Drew, an alumnus of Tulane, told O'Donoghue that it feels like a "good time to come home." The photo above was taken at Shelledy's retirement party in May. The lead headline for a mock-version of The Advocate printed for the occasion read: "Analysts: Jay Shelledy Actually Retiring This Time." Ha ha.
Shelledy worked for 12 years as editor of the Salt Lake Tribune before joining LSU in 2005. Last year, he was named "Educator of the Year" by the Association for Education in Journalism and Mass Communication. Here's how one former student framed his impact:
Amy Brittain, a Pulitzer Prize-winning investigative reporter for The Washington Post who first met Shelledy in 2005 when she worked at The Daily Reveille, called him "a champion for the students," and said he inspired her to doggedly go after tough stories. "As the director of Student Media, Jay encouraged young reporters to pursue ambitious and investigative stories," Brittain wrote in support of Shelledy's nomination. "I am a better reporter from having learned from him, and I know that countless other students and alumni feel the same way."