Earlier this week, we reported about the appointment of new executive editors at Playboy magazine for the digital and print side. Leila Brillson, brought in to oversee the former domain, is also part of a fascinating March 31 piece shared by the magazine titled "10 Feminists on Why They Work for Playboy."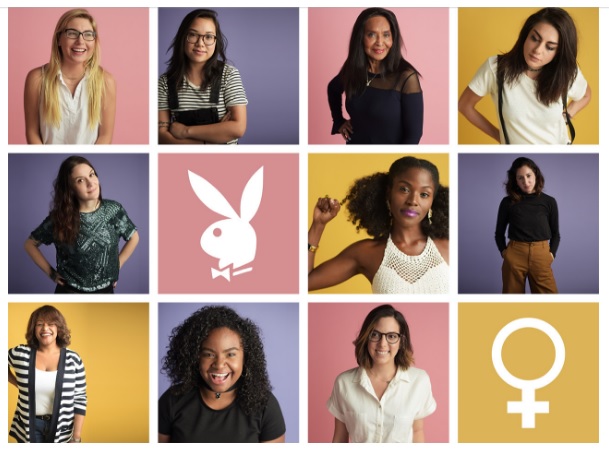 Photographs by: Miles Szanto
Brillson and various other colleagues answered two prompts for the item: 'What Feminism Means to Me' and 'Why I Work for Playboy.' Here is Brillson's reply to the second category:
Why I Work for Playboy: Aside from the cultural history and emphasis on free speech and expression, there is a really simple reason I believe in this brand: Because sex is worth discussing. Playboy hasn't been perfect—but in 63 years, who has? Most impressively, it has always striven to do better, to consider larger issues and push boundaries. Confronting the status quo is my editorial modus operandi, and it is so important to continue to ask ourselves, if a woman (or a man) is enjoying sexuality, why do we not consider them intelligent? Why are we afraid of ownership of desire? Why is it so hard for us to put sex and politics in the same place, even though those are the things that make us most passionate and engaged?
At the other end of the tenure spectrum, there is Pat Lacey. She started out as a Bunny in 1965 and 52 years later, is a Playmate promotions specialist. Also providing answers for the two-pronged questionnaire: senior editor Anna del Gaizo; associate editor Nicole Theodore; vibe specialist Ashley Wilkerson; research editor Samantha Saiyavongsa; human resources assistant Myshala'e Jackson; social media editor Olivia Jacobs; digital photo editor Maya Harris; and executive assistant Keanna Aubert.
Coincidentally, Gloria Steinhem addressed her own brief Playboy employment history at the beginning of March, in a Q&A with The Guardian. In the spirit of the Playboy "Feminists" piece, this question-and-answer stands out. Pay special attention to the last sentence:
If you could edit your past, what would you change?

Since hostile people still call me a former Playboy Bunny, even at 82, I probably shouldn't have done that in my youth, even to write an exposé. And since a couple of times they've also referred to me as a former CIA agent, because I went to two Soviet-era communist youth festivals, I probably shouldn't have done that, either. Yet if I hadn't done both, I might have judged other people by such empty symbols, too.
Correction:
The original version of this item erroneously cited the 'Why I Work for Playboy' answer given by senior editor Anna del Gaizo as that of Brillson. Fishbowl apologizes for the error.