FX CEO John Landgraf Takes Aim at Netflix's 'Not Remotely Accurate' Ratings Data
'The truth will ultimately come out, as it always does'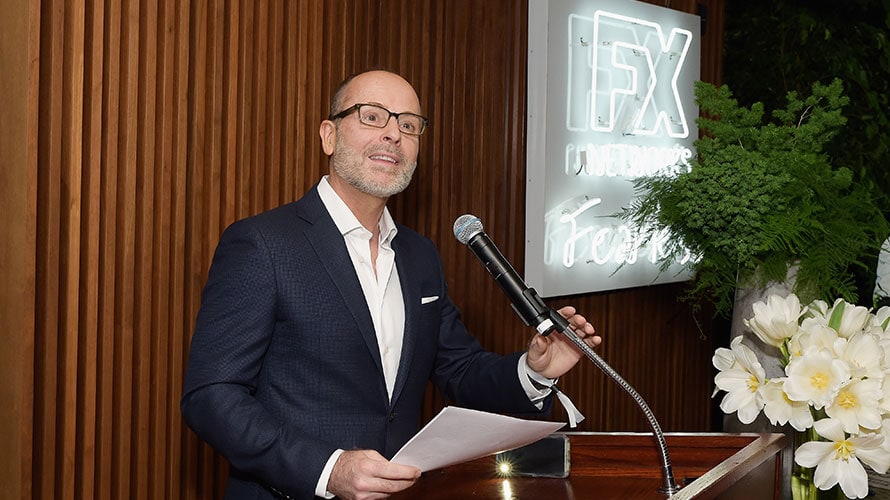 FX Networks CEO John Landgraf has never been shy about publicly taking shots at Netflix, but he took things to a new level today at the Television Critics Association's winter press tour in Pasadena, Calif.
Landgraf lambasted the streaming service for the selective—and he says, misleading—ratings data that Netflix shared last month. In a letter to shareholders, Netflix said that its new series You and Sex Education were both on track to be viewed by more than 40 million households, respectively, in their first four weeks. (For Netflix, a "view" is when at least 70 percent of one episode is completed by one of its global subscribers; also note that these were estimates, as neither show had been on Netflix for four weeks at that point.)
But those ratings, Landgraf said, are "not remotely accurate" when compared to Nielsen's average audience per minute metric used by the rest of the TV industry.
According to Nielsen's SVOD content ratings, which measure U.S. viewership of Netflix content via connected TVs (which represents 70-80 percent of overall viewing), You averaged 8 million U.S. viewers, while Sex Education averaged 3.1 million viewers during its first two weeks.
"Forty million people are not watching every episode of You or Sex Education," said Landgraf, who claimed that Netflix  was "reporting their singles as home runs."
Given how few of its shows actually reach a massive audience, Netflix's true batting average when it comes to original programming "would be viewed as unimpressive," said Landgraf. "Stranger Things is absolutely a home run, but it is also a huge outlier on the Netflix platform."
The CEO said that Netflix and the other streaming services' selective approach to sharing ratings metrics might work for now, but as Nielsen and other measurement companies continue to expand their abilities to measure this content, "one way or another, the truth will ultimately come out, as it always does."
Landgraf said his biggest problem with Netflix is what he sees as its objective to obliterate all competitors and set the rules.
"It's just not a good thing for society when one person or entity is able to unilaterally make the rules or pronounce the truth," said Landgraf.
The CEO also took aim at "the rising monopolistic titans of Silicon Valley and what I have called their endless money cannons."
He explained further, "Silicon Valley's attitude just really, really bothers me. Look what it's done to journalism. It started with a free pass on copyright and now it insists it's divine right is a free pass on copyright."
FX, meanwhile, has "a laser-focused brand that can still compete effectively" with Netflix's "insane" output, he said.
Landgraf, who invented the phrase "Peak TV" several years ago, said that 496 scripted series aired last year on broadcast, cable and streaming (not 495, as FX had initially said in December), and that the number will increase in 2019.
"I'm betting we'll see more robust growth this year, and maybe next year," said Landgraf, as Apple, Disney, AT&T and NBCUniversal roll out their new streaming services.
Landgraf said he couldn't talk much yet about Disney, which will become his new corporate parent once it closes its deal to buy 21st Century Fox. However, the more he has gotten to know Disney CEO Bob Iger, "the more optimistic I've become about the future of FX," he said.
Once the Disney deal closes, Landgraf will move over to Disney with the rest of the network, and will serve as chairman of FX Networks and FX Productions, Disney said in October.
Disney would like FX to increase its output, but Landgraf said those efforts will be "measured and focused" and he and his team will maintain the quality of the FX brand.
As the landscape has shifted and streaming is becoming such a large part of the ecosystem, Landgraf said he's grateful to be joining Disney, which will be launching Disney+ later this year and will also take a controlling stake in Hulu and directing more FX content to that service.
"Not being connected to a major streaming service would be really problematic for us in the long run," said Landgraf. "It's going to be tough for channels that don't have that access."